Grooming, Baths & Nail Trims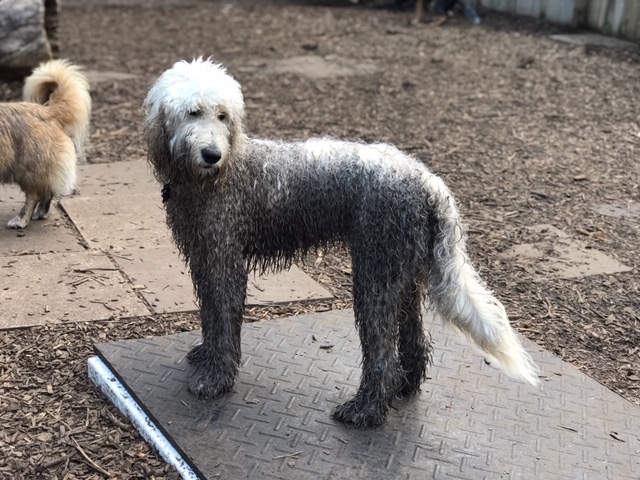 You want your dog looking their best! Whether your dog needs a little "fluffing" or a nail trim, Four Paws can help!
Sharon Morgan, owner of Adorable Dog, grooms dogs on Wednesdays. Sharon is a veteran Groomer, 38 years experience with all breeds, specific grooming techniques. She mentors and teaches new groomers fresh out of school, offering them her wisdom and proven techniques so they may better serve the customers and dogs in the tri-state area. Call 513-774-9222 for availability.
Four Paws is also fortunate enough to have Anthony Cobb, our Licensed Behaviorist and Dog Trainer, bathing member's dogs after Boarding or Doggy Day Care.  As our Members know, Anthony is incredible with the dogs. They adore him, trust him and with good reason.  Therefore, baths and/or nail trims aren't so frightening and horrible.  Some dogs love a spa day and others just hate it.  Because they spend so much time with Anthony in the yard they feel safe and it's more relaxing for them.
Anthony offers Baths, de-shedding, nail trims, teeth brushing, blow outs, etc. Baths range in price from $20-45, add $5 for de-shed, for Members only. Full Grooms (no hair cutting) offered with De-shedding and Nail Trims run $45-80 depending on coat condition and size for Members only, all with the same calm atmosphere with which he runs the Big Yard Doggy Day Care. 
If you are not a Four Paws Member with a completed file, Full Grooms are available daily by appointment beginning at 2pm Mon - Fri and Sun 1pm.  Prices vary according to size, breed, temperament and condition of coat.  VACCINE proof required, hard copy only.... DHLPP, Rabies, Bordetella. 
Call our Front Desk  513-774-9222 for appointments with Sharon for Grooming as well as for Anthony.